Envy-lope (Blue) by Brandon David & Chris Turchi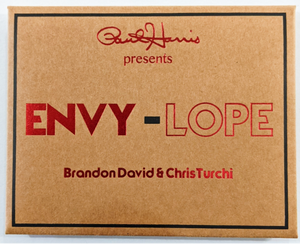 Sorry, this item is out of stock
A brilliant, envy-inducing adaptation of the Paul Harris Vanishing Deck...for a guaranteed jaw-dropping moment in any card routine!

A signed, lost card is about to appear in an envelope in your pocket...when "BAM!" the full deck in your hands visibly morphs into an envelope!! Both sides of the envelope are immediately and cleanly displayed. There's nothing else in your hands. The deck is really gone! There's now really only an envelope in your hands!

Your participant now reaches into the envelope and pulls out her signed card!

If you don't want to have a card chosen, you can visibly morph the deck into an envelope and pull out your business card, credit card, etc.

Envy-lope

 is completely self-contained...nothing to add or steal

Option to start with your normal deck and perform Envy-lope any time you feel like it

Easy no-moves handling to give out the envelope for examination (although it's really not needed)

Re-sets in seconds

Perform surrounded
Envy-lope comes complete with sturdy, easy-to-handle, long lasting gimmick, normal envelope, and link to instructions.

"Envylope is a great piece of visual magic! Two thumbs up:)"
-Calen Morelli

"A Vanish, Revelation and Transposition all in one super sweet gimmick, I love performing this!"
-Dan Hauss