Titanic Tarot: Risen Spirits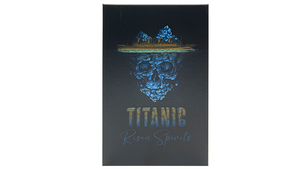 Titanic Tarot: Risen Spirits is a fully customized 78-card deck of tarot cards themed after the RMS Titanic. The tarot deck features life on board the ship as well as life before and after the tragic events that the ship became famous for.
This is the second edition of Titanic Tarot. The first edition was released in 2020. A large portion of the deck was redesigned for this updated edition. We wanted the Minor Arcana to reflect life aboard the ship opposed to focusing on the tragedy itself. In addition to updating over half the artwork, we also took off the borders along the artwork to shine and also switched to a matte finish.
Titanic Tarot: Risen Spirits features:
78 Custom illustrations
Booklet explaining the cards
Two-piece rigid cardboard box
Matte finish
Black holographic edging on the cards