Silk Wonder Box by Funtime Magic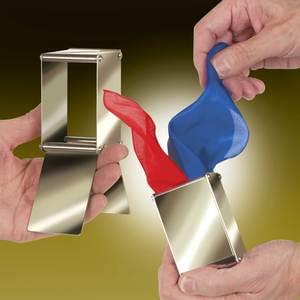 THE MOST AMAZING PRODUCTION BOX EVER INVENTED!

Remember the little car (a Volkswagen Bug) that would pull into one of the circus rings and about twenty clowns would get out? How did they all fit into that tiny car? That's what your audience will think when they wonder how all these scarves came out of this tiny box!

With this new version, ALL doors drop down to reveal a skeleton framework, proving the box is empty. Here is the effect: Show a beautiful, small chrome box, about 3 X 2 X 2. You let the front & back doors flop down, as well as opening the top door. It is unmistakably empty. All the doors are now closed.

You now proceed to make an UNBELIEVABLE PRODUCTION OF UP TO TWELVE SILK SCARVES OF ALL DIFFERENT COLORS! What's so amazing about this little box is that each time you produce three or four scarves, you can immediately open all doors to show the box again empty, yet after closing, you again proceed to produce an endless amount of scarves!

This is the only production box that can be examined! And when you try to stuff all the scarves back into the box, they don't seem to fit back in! Made of brass, chrome plated.